Join us for CORe this Summer!
In response to the continuing COVID-19 pandemic, HBS Online will once again offer all students in our collaborating college network the opportunity to take May or June CORe for $450 (an 80% discount), regardless of financial need.
Students must use their campus email address to sign up and confirm in their application that they are a current student. Skip the scholarship section when applying. During enrollment, students enter a promotional code - CoreSummer21 - to receive the discounted pricing before submitting payment. Students also have the option to forward payment to a third party to complete enrollment.
Explore this page to learn more about eligibility, cohort dates, and instructions on how to enroll. We hope many students will join us to learn the fundamentals of business this summer!
- The HBS Online Team
Promotion Eligibility
The Summer 2021 CORe promotion is available to students who are undergraduates and recent graduates of the HBS Online Collaborating College network. Students must have a valid school email address to enroll.
This discount is available only for the

non-credit

May and June 2021 cohorts of HBS Online's CORe program. The discount does not apply to the individual CORe certificate courses, but our normal scholarship program is still available for those courses.
This discount does not apply to the May for-credit version of CORe offered through Harvard Extension School.
There is no additional discounting available for high need students – all students can take the program at our high need price.
Students begin the application process at online.hbs.edu/courses/CORe using their campus email address to create an HBS Online account.
Follow steps to Create Account and provide required information. Once the student hits "submit," they will need to check their email and verify the account through the verification link provided. Once the account has been verified, the student will be able to login and begin a CORe application.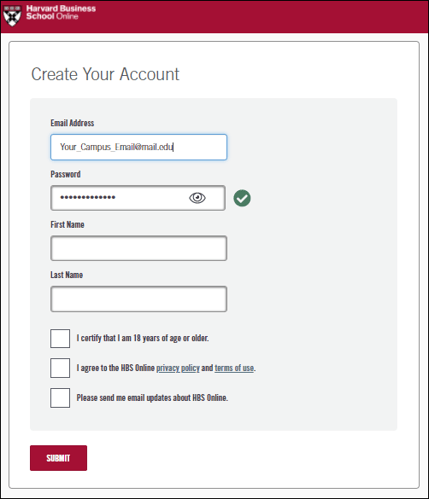 CORe Start Dates
May 18, 2021 Cohort
(Apply by May 10)


June 22, 2021 Cohort
(Apply by June 14)

Program Structure
10 weeks
17 modules
1 final exam
Expected Time Commitment
12-15 hours per week
~150 hours of coursework

Step 2 of 3: CORe Application
At the very beginning of the application, students should select "no" to the question of taking CORe for undergraduate credit, as that path routes them to Harvard Extension School. The reduced cost from HBS Online is only available to the non-credit version of CORe.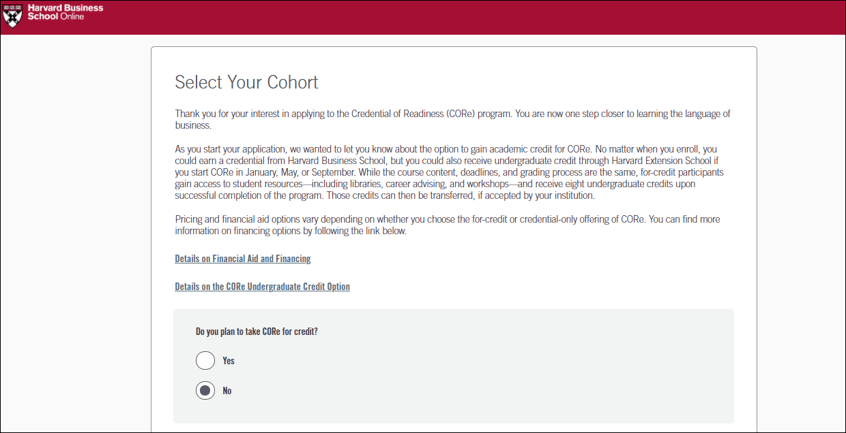 Students are then required to provide basic demographic information. They should select the checkbox that indicates they are a current student.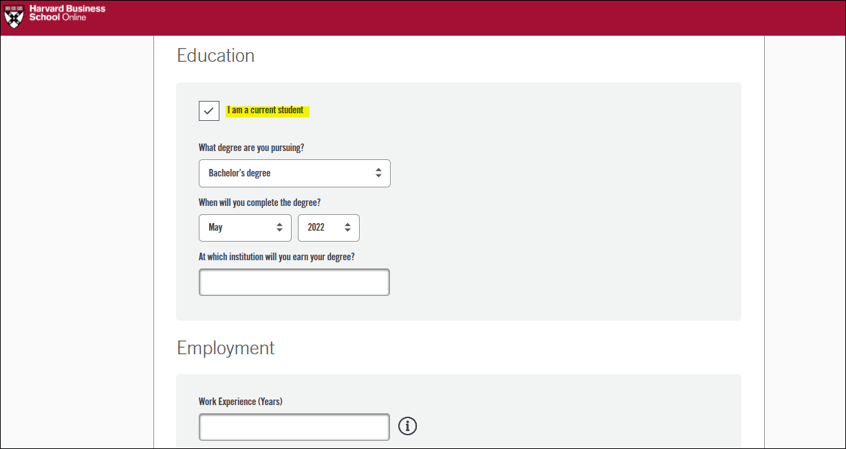 When the application and essay have been submitted, the student will see the following scholarship page (assuming they have applied with their campus email address and checked the box indicating they are a current student). Students who wish to utilize the promo code should select to SKIP the scholarship section altogether. For more information about scholarships in future programs where the COVID-19 promotional code is not available, please review our Payment & Financial Aid page.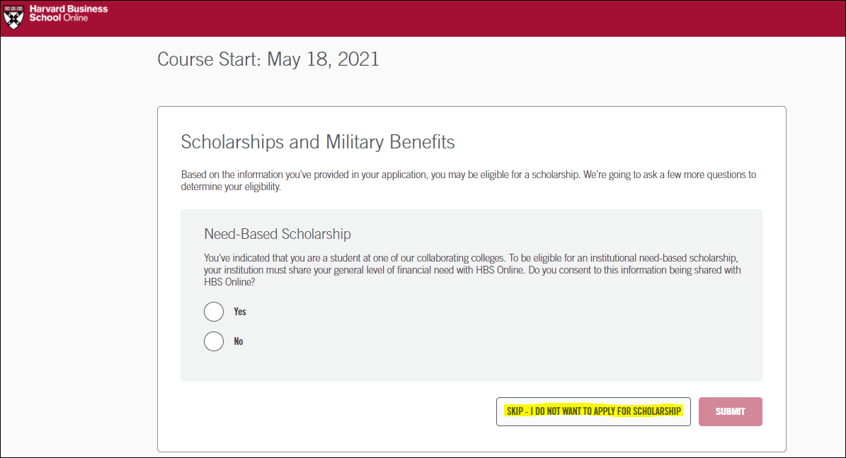 Completing Payment and Enrollment
Step 3 of 3: Enter promotional code and complete enrollment
Once accepted, the student will receive an email from hbsonlinesupport@hbs.edu with notification of their acceptance. The subject line of the email will read "Admissions Decision Available." They will then need to log back into their account to complete enrollment.
At the payment page, students should enter the promotional code CoreSummer21 to reduce the cost of CORe from $2,250 to $450 (see below). The payment page is also where they can forward the payment request to a contact at their college or university, or other sponsor.
Students will receive an email confirmation once payment is completed. The HBS Online team will be in touch 3-4 days before the course begins with an introductory email to help students get started with the program.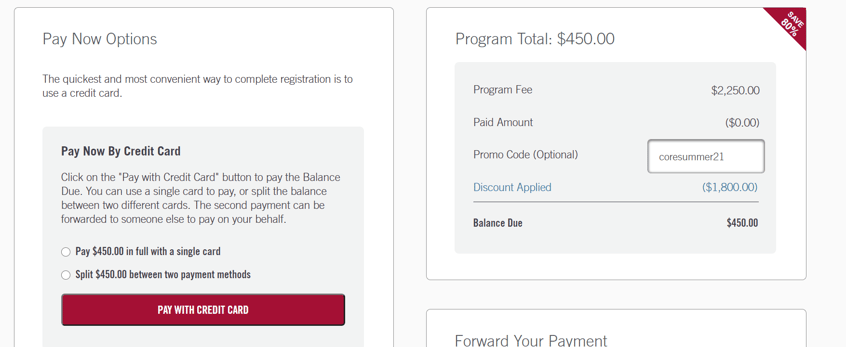 Frequently Asked Questions
Here are a few questions you might be wondering about. If you have other questions on your mind, please check out our Frequently Asked Questions.