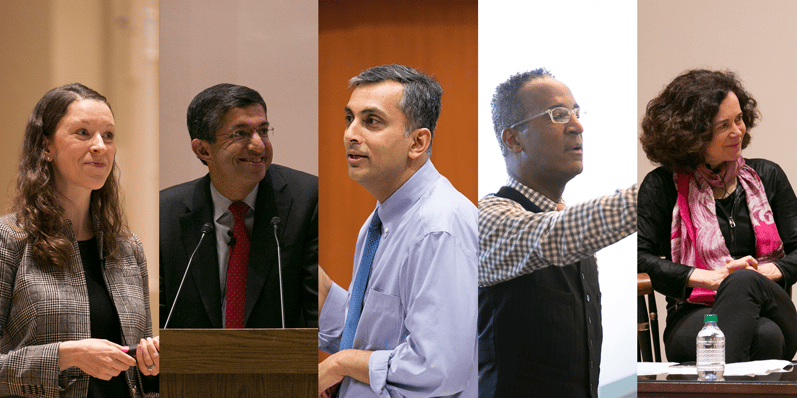 I recently got the chance to attend HBX ConneXt for the second year, meeting my fellow alumni and taking the opportunity to ask questions and learn from our professors. Here are my top takeaways from an incredible day of knowledge:
"Technology is only a tool, it's not an end in itself. Online learning won't magically improve learning."
—Bharat Anand, HBX Faculty Chair
Bharat Anand kicked off the day by adding context around HBX and what it means to the world, not just to us as students. HBX pioneers a model of teaching that's pushing the boundaries of what education can be.
Look at the age distribution of HBX students—from 17-60! With technology, we can provide access to anyone willing to learn. The boundary, then, is not privilege, but the motivation and commitment of students.
"Finance is about information and incentives, not money."
—Mihir Desai, Professor, Leading with Finance
As a past CORe participant, one of the best parts of HBX ConneXt is getting a taste of the many different courses available. Being a marketer, I rarely get the chance to talk to my CFO or know what they're thinking about during the day. Participating in Professor Desai's financial policy case discussion on Apple was eye-opening (not to mention outside of my comfort zone!).
Like any business, Apple's industry plays a major role in financial policy, and talking through some of the unique challenges in tech—fear of missing the product lifecycle, a brand-intensive marketing play, and a mandate for innovation—introduced me to the concept of cash flow, and why it's worth paying attention to, especially for big players like Apple and Google.
"In order to change the world, you have to be up against problems that no one has been able to crack before."
—Megan Joyce, East Coast General Manager at Uber
No matter what our role or industry, we all seek to make an impact. At Uber, they're not just trying to build a successful business—they're trying to solve big, hairy problems like global climate change.
Joyce also talked about a different way to make an impact: through others. As a manager, it's your job to bring out the best in the people around you and helping them dream bigger. And though we'd like to think we always know what to do, when you're trying to make an impact, you might not have the right answer. In fact, you might not have any answers. And that's okay. It's not always your job to have the answers—instead, pull great ideas out of your team to make an impact on the world.
"How do you deal with no's? Move on. You don't have time to dwell on it."
—Mark Hardie, HBS Career and Professional Development
Mark Hardie's incredible afternoon workshop for aspiring entrepreneurs talked through a complete case study of a business idea. But knowing the partners, activities, and personas you have to target to create a business plan is only half the battle.
The other half? Getting your voice heard. To be able to get funding (not to mention customers), you have to build a story. Articulating your idea quickly allows you to capitalize on whatever opportunities might come your way—and if someone says no, that's okay. Learn from it and move on so you don't miss the next opportunity.
"Business can save the world."
—Rebecca Henderson, Harvard Professor
To finish out the day, we heard from the brilliant minds of Rebecca Henderson and Michael Sandel discussing the future of capitalism. Capitalism, Henderson argues, is a fabulous tool but a bad master, which has caused problems like environmental issues, increasing inequality, and firms fixing regulation to benefit themselves.
We've become a market society, where market values and market thinking dominates every aspect of life, not just goods and services. At times of major crisis, business leaders have stepped up to solve these kinds of problems for the greater good—the question is, will they now?
If Rebecca Henderson is right, I know that HBX'ers are ready, willing, and able to tackle the world's biggest problems head on.
The amount of knowledge packed into one day at ConneXt was overwhelming, but it was also inspiring. Whether it was debating Apple's financial strategy or outlining a business plan, I got the chance to meet HBX'ers from all over the world, learn from them, and be inspired by their dreams and plans—because the only way we'll save the world is together.
---
About the Author

Kayla Lewkowicz participated in the January 2016 cohort of HBX CORe. She is the marketing coordinator for a tech start-up in Cambridge, MA who took CORe to better understand her company. Her reflections on the program can be found on her blog.