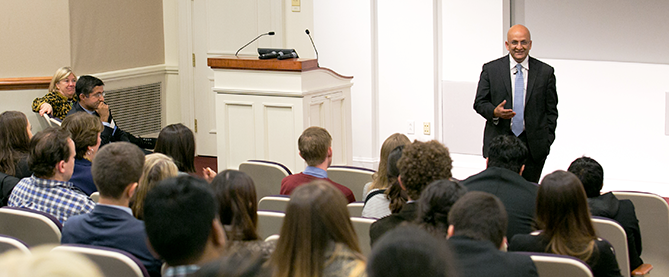 Dean Nitin Nohria addresses HBX CORe students at a closing ceremony on November 2, 2014.
In the fall of 2010, just a few months after I became dean of Harvard Business School, I remember hosting a large meeting where faculty and staff could ask questions and offer feedback. I recall one question in particular: "When will Harvard Business School enter the arena of online education?"
I answered unequivocally: "Not in my lifetime."
I was wrong, of course, and thanks to the launch of EdX and a remarkably entrepreneurial group of colleagues at HBS, we began work on the project that has become HBX. This month, as we celebrate one year since its launch—during which 4,100 students from 72 countries have experienced our courses—it's fitting for me to reflect on why I initially misjudged the potential of online education, and why I now believe the technological and pedagogical innovations being pioneered by HBX have the ability to transform the way we teach in all of our programs at Harvard Business School.
My slow acceptance of online education was shaped by two important factors.
First, until a few years ago many of the people promoting online education positioned it as a disruptive innovation which would threaten (or even kill off) campus-based, face-to-face educational programs. While it undoubtedly is shifting the landscape of management education, my belief in the transformative power of an intimate, immersive, residential program that utilizes the case study method—a form of business education created by Harvard Business School nearly a century ago—is profound and unshakeable. The pervasive framing of online education as a threat caused me to react defensively; once I changed my mindset, and began to see it as a supplement and complement to existing educational methods, my attitudes began to change. My colleagues and I started to view it as an exciting opportunity to extend and enhance our mission rather than as a threat to our survival.
The second factor that limited my imagination was the experience I'd had sampling online courses as they existed in 2010. I had explored the first generation of MOOCs and was unimpressed. After twenty-five years of teaching via the case study method, I prefer deeply interactive classroom discussions to lectures—and uploading videotaped lectures and problem sets into an online setting seemed to me a poor alternative. But as my colleagues and I began to brainstorm how we might bring our engaging case method pedagogy into an online setting, my views changed. I sometimes use the analogy that if someone examined a mobile phone in 1985—when the contraption was the size of a small suitcase—he or she might dismiss the long-term appeal of this transformational technological innovation. Likewise, once I realized how dramatically a team of Harvard Business School faculty and staff could improve on existing methods for online education, I realized that my view had been mistaken, too.
I am enormously proud of the courses that my colleagues at HBX have created. They have found ways to replicate the intimacy and interactivity of the case study method in an online environment, and they have pushed the technology in imaginative ways (and continue to do so). I am eager to watch as they continue to innovate and expand. There is no question that they have delivered on the initial idea: that HBX could extend the mission and reach of Harvard Business School, just as our Executive Education programs and Harvard Business Publishing allow us to deliver teaching and research to thousands of people beyond those who pursue a Harvard MBA.
Our HBX CORe offerings liberate undergraduates to major in subjects of their choosing but still have access to a high-quality introduction to business fundamentals, and they allow companies to hire people without business backgrounds by ensuring new employees have the ability to quickly and efficiently learn the basics in a cost-effective manner. HBX, and HBX Live in particular, also help us to deliver on our promise of lifelong learning, by giving us new way to reach and interact with students and alumni as their careers and educational needs evolve.
Perhaps the biggest surprise that's come out of HBX is how it is beginning to affect our thinking about the best way to teach live classes utilizing the case study method. Just as lecture-based programs are putting lectures online to "flip the classroom" and deepen in-class discussion, we are exploring ways to use the technologies and methods pioneered by HBX to allow pieces of what we now do in our case discussions to take place online before class, opening up time for a richer classroom experience.
For example, we are exploring ways to use HBX technology to enhance the way we present technical or analytically complex materials before students come to class, freeing professors from the whiteboard and allowing students to master these concepts at a pace that is personally comfortable. In Executive Education, HBX Live has already been put to use in modular programs when participants are not in residence and are distributed all over the globe.
I can't—and won't—predict what HBX might look like in the future. I have humility, because I was wrong about online education in the past, and I don't want to be wrong again. But I have no doubt HBX will continue to be a powerful new vehicle for us to advance our mission of educating leaders who make a difference in the world, and at all stages of their lives.
Five years after I said "not in my lifetime," I now believe that HBX could easily be one of the most important initiatives we undertake at Harvard Business School.
---
This post is a part of our HBX Year One series celebrating the one year anniversary of the public launch of HBX. View all of our HBX Year One posts here.
---